About Your Vision Resource
Established in 1999, Dr. Davison's practice, Your Vision Resource, has been providing quality medical and surgical eye care services to the Saratoga Springs community for over 20 years. We are Saratoga's choice for complete , comprehensive medical and surgical eye care.
"Your satisfaction is our highest priority"
When you come in for your appointment, you will be greeted with a smile. Our helpful staff will guide you through the examination process and answer all of your questions. Privacy and insurance regulations require that we have you fill out a number of forms, so please be patient with us. Realize that the examination process can take up to ninety minutes, so please budget your time accordingly. We are a comprehensive vision care practice. That means that we will perform a complete medical eye examination, from determining any need for glasses to a complete, dilated retinal examination. You probably will not have had a more thorough eye examination. However, you won't be herded through the office with scores of other patients like cattle. The doctor will actually sit with you, talk with you and answer any questions. You will realize that Dr. Davison cares about you and the health of your eyes. There are times where our schedule gets delayed, and sometimes this is unavoidable. Since we handle all types of eye problems, not all of our patients are routine, and sometimes a complicated patient will put us behind. Just remember that if you have a serious problem, you will not be hurried out or rushed through. We will give you all the time you need to appropriately address your problem and answer all your questions. Whether it's a new glasses prescription, or cataract surgery, every problem is dealt with completely and professionally.
Being a leader in ophthalmic care for the Saratoga Region is our goal. If we have done something that has made you unhappy, please tell us. If you are pleased with the quality of care that we dispense, please tell a friend.
"Caring for more than just your vision"
Born in Gloversville NY, Dr. Davison has been practicing ophthalmology in Saratoga Springs for over 28 years. He is a Magna Cum Laude Graduate of the State University of New York at Albany where he received both a Bachelors and Masters degree in biomedical sciences. He attended Albany Medical College, graduating with honors. He is a member of the Alpha Omega Alpha National Medical Honor Society. He completed his ophthalmology training at The Health Science Center at Syracuse in 1993. Originally certified as a Diplomat of the American Board of Ophthalmology in 1995, he has recertified twice and is now certified into 2025. He specializes in general ophthalmology, cataract surgery and glaucoma surgery.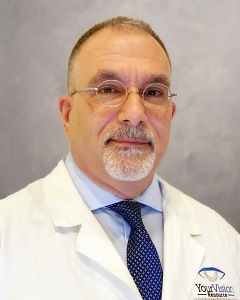 What Our Patients Are Saying
"One of the most caring doctors I know. He is soft spoken which adds a calm atmosphere. He explains everything he's doing before he does it. Does not rush you thru your appointment and takes the time to answer all your questions and listens to your concerns. I highly recommend him."
J.C., Saratoga Springs, NY
"Thank you for your concern, caring and professionalism."
"Dr. Davison is very caring about you and your eye's health. He explains everything in detail. The staff is very polite and friendly. I would highly recommend Dr. Davison to anybody needing eye care. Thank you Dr. Davison and staff."
"Thank you for the kindness and attention you showed [my] Dad and your success in helping him keep his vision to the end of his life."
"Dr Davison is a great doctor. He listens and works hard to make sure your concerns are treated appropriately. The staff has always been pleasant and helpful."
J.G., Saratoga Springs, NY
"You are all super! Cataract surgery was so easy because of your supreme knowledge, efficiency, patience and just plain kindness."
C. Y., Saratoga Springs, NY